An interesting picture from the Google Trends covering the popularity of top microsotck brands in the Google search and news.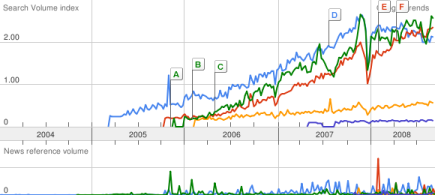 istockphoto: 1.00 shutterstock: 0.66 fotolia: 0.78
dreamstime: 0.20Â  stockxpert: 0.04
Dreamstime and Stockexpert are stagnating on the bottom but Fotolia competes with two other "micro-monsters" on the top. This is quite interesting because it doesn't exactly reflects the situation with my sales. Also  according to the regular earnings reports posted by Lee Torrents on Microstock Diaries the picture looks a bit different. You never see the Fotolia in the leaders.  Very good promotion or am I missing something as a contributor?